Written and Directed by Chelsea Gonzalez
Starring Candace Hammer and Bernardo Cubria
Queen's Gambit Films
"Emily has faced a lifetime of being objectified, intimidated, and worse. Tonight, she's had enough."
When the idyllic facade of her relationship is shattered, Emily is left to pick through the pieces for answers.
Written and Directed by Paul Horan
Queen's Gambit Films
"Not playing isn't an option."
Short film meets video game in this genre-bending piece inspired by the obstacles women navigate daily while simply trying to get from point A to point B.
Written by Kate Hamilton
Directed by Natalie Britton
Queen's Gambit Films
"It's hard to be exceptional when you're just...Medium."
MEDIUM is a five-minute short about a woman's search to find balance in the entertainment industry where extremes dominate the scene.
Written by Caroline Sweet
Directed by Felipe Figueroa
Queen's Gambit Films
Timmy is a world famous, award winning Toymaker. Well, he was… until a fateful Christmas morning when one of his cutest creations went on the warpath. Was it part of a sinister plot or is he innocent? And what will he do when the whole world turns on him?
Written by Ryan Powers
Directed by Anne Renton.
Starring Ryan Powers, Chelsea Frei, Phillip Jordan, and featuring Lauren Bair.
Queen's Gambit Films
Sam loves his job working in a morgue, almost as much as he loves his celebrity idol, Alfred Molina. So, when Alfred Molina arrives on Sam's cold hard slab (a potential victim of some nefarious seals), Sam's world is thrown into chaos and despair.
Written and Directed by Dominic Burgess
Starring Alfred Molina, Harley Jane Kozak, and Dominic Burgess.
Produced by Natalie Britton, Ari Schneider, and Casey Graf.
SUSANNE AND THE MAN is a light-hearted comedy that explores some of the darkest issues plaguing today's gender stereotypes.
Susanne has never been more prepared for the job interview she has lined up with Stan, a successful businessman. However, when Stan enters speaking in his own "unique" fashion, Susanne quickly learns this was not the kind of interview she expected.
Written by Chelsea Gonzalez, directed by Milena Govich and starring Chelsea Gonzalez and Johnathan McClain. Produced by Natalie Britton and Chelsea Gonzalez.
POP - Fear. Put a pin in it.
In this off-beat comedy, Carol has to face the thing she fears the most. It waits for her behind a mysterious door at the end of the hall. With the help of her doctor, can carol face her fear, go through the door, and burst through her crippling phobia?
Written and directed by Caden Douglas, starring Virginia Reece and Robert Mitchell. Produced by Natalie Britton, Bill Mendieta, and Caden Douglas in association with The Collaborative.
SORRY FOR YOUR LOSS is a funeral comedy, from the viewpoint of the deceased.
A woman awkwardly navigates her nearest and dearest at her sister's funeral.
Written and directed by Lauren Bair, starring Ryan Powers, Heather Ankeny, and Lauren Bair. Produced by Natalie Britton, Lauren Bair, Ryan Powers.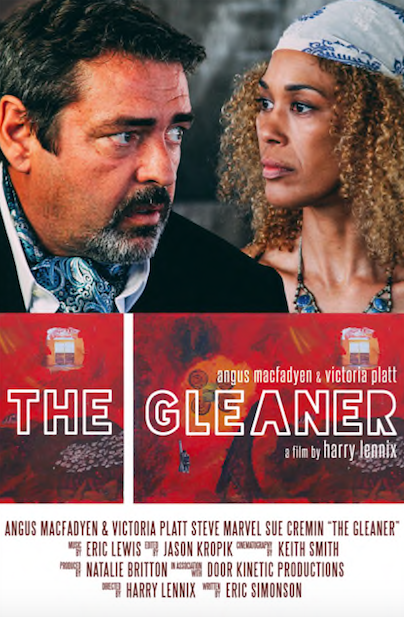 THE GLEANER explores the intangible cost of making great art, especially when it comes at the expense of the artist.
Lane, a serious purveyor of modern masterpieces, discovers his multi-million dollar purchase is a fraud - perpetrated by the beautiful assistant of the deceased artist. He has a few choices in front of him- will he do the honorable thing, the deceitful thing - or something far worse.
Written by Eric Simonson and directed by Harry Lennix, starring Angus MacFadyen, Victoria Platt, Steve Marvel, and Sue Cremin. Produced by Natalie Britton in association with Door Kinetic Arts Festival.
WILD NIGHTS WITH EMILY is a dramatization of the little known side of the writer Emily Dickinson's life, in particular her relationship with another woman.
Written and directed by Madeleine Olnek and starring Molly Shannon, Susan Ziegler, and Amy Seimetz. Produced by Casper Andreas.
*Assistant directed by Natalie Britton.